Focusing in on trespass concerns
Our reporting analysts share insights into the safety concerns reported about trespass on the railway in the period April to September 2021.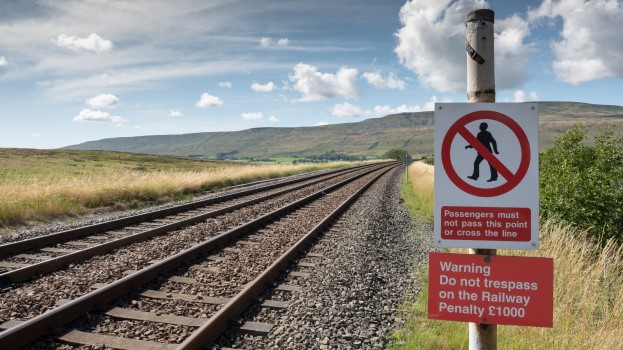 Trespassing can cause life-changing or fatal injuries, especially on the railway with its fast moving trains, overhead wires and electrified rails. It can be life-changing to people working on the railway too, if they witness a near-miss or accident resulting from trespass.

It's not just the risk of an accident that makes trespass a problem. If someone gains access to somewhere they shouldn't be, they might steal or damage equipment – such as cables – risking injury but also consequences to others such as delays.

We take concerns about anything that might encourage trespassing – from a hole in a fence near the railway, to an unsecured access point. We share this information with the responsible company so that they can act to prevent trespass. Several people have reported trespass concerns to us this year.

Some reporters were concerned that a lack of anti-trespass mitigations might lead to trespassers accessing hazardous areas with potentially fatal results. Anti-trespass mitigations could include things like secure gates, fencing, anti-climb paint, and locked doors.

Sometimes these mitigations fail because of human factors. Someone might forget to lock a gate or door. Sometimes mitigations are in place but aren't effective, for example, because of poor maintenance. We've had two reports so far this year about faulty gates giving access to railway tracks. In these examples, the gate would not close behind the user as intended because of a faulty spring-back mechanism.

We have also passed on concerns about a lack of signage warning of the dangers of trespass and alerting people to behaviours they should avoid when using a level crossing – such as reminders to dismount from bikes before using the crossing, or not to wear headphones while crossing.

One reporter raised a concern that they had seen pedestrians taking a shortcut across a railway track to reach a walking route on the other side, avoiding the longer route to get to the authorised crossing place. A concern like this can alert a duty holder to a risk to the public that they may have overlooked.

A particular area of concern since Covid-19 restrictions have eased has been people dangling their legs over platforms at train stations. Although we have not processed a concern about this, the rail industry Trespass Risk Group has seen an increase in incidents.

This year, most trespass reports to CIRAS have been about access to rail infrastructure, but reports can also be about unauthorised access to buildings or work sites.

If you have a trespass-related safety concern, contact us. We will listen and raise the concern with the relevant company. However, remember that real-time incidents of trespass should always be reported to British Transport Police by calling 0800 40 50 40. In an emergency, call 999.
Tags
Infrastructure Issue
Infrastructure Managers
Supply Chain - Infrastructure