Case study: initiatives help to prevent antisocial behaviour
Disruptive behaviour at stations and on trains targeted in broad approach.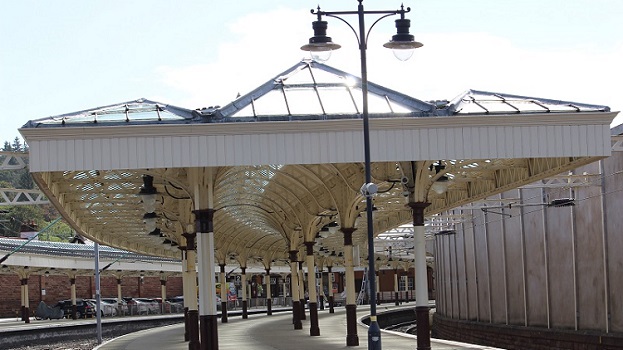 Wemyss Bay, Scotland
Concern
Staff at stations between Woodhall and Gourock/Wemyss Bay are feeling emotionally stressed because of anti-social behaviour (ASB), said a reporter. They described groups of young adults being threatening towards staff, with increasing severity. The reporter added that the behaviour – including running alongside trains and pretending to push one another off platforms – was distracting train drivers.
They were also aware of a recent increase in passenger assaults, and train equipment including fire extinguishers and emergency exit handles being damaged. The reporter was concerned that staff had no means of protecting themselves, and that there was a lack of supervision and crowd control.

Concerned at the impact on staff and passenger safety, they asked Abellio ScotRail to:
liaise with the British Transport Police (BTP) to implement measures to stop disruptive behaviour
consider temporary security for worst-affected stations
review the alcohol policy
consider letting train drivers to skip stations if they felt that anti-social groups could put others at risk.
Abellio ScotRail's response
ScotRail has continued to engage with staff, local authorities, BTP and Police Scotland on the line or route mentioned, and continues to look for additional mitigations and actions to drive forward a positive reduction in ASB incidents.

Our security and emergency planning manager supports the local station management teams in carrying out ASB initiatives together with BTP, Police Scotland and Inverclyde warden services. Our trade union colleagues have assisted in supporting colleagues when there has been an increase in ASB incidents, participating in planned initiatives to support colleagues on this line of route.

Station managers and BTP officers visit the stations in the area at least twice per week. The local area manager and sergeant from BTP liaise regularly about ASB, and review station logs, control logs and CCTV images to assist in identifying developing trends and the development of mitigations, actions and support exercising.

We have provided and made available personal body cameras at key locations on this line of route including Port Glasgow, Gourock and Wemyss Bay. These have proved to be a useful deterrent in the battle against ASB and we'll continue to promote the advantages of using these to staff.

No staff physical assaults have been reported at these stations in the last three years, but there have been reports of verbal abuse and ASB. We are continually reviewing the effectiveness of our measures and mitigations. A new ASB procedure has been shared with staff in this area to promote supervision and crowd control at stations. Staff are advised to report large groups to our CCTV control room. This supplements procedures such as texting and phoning the BTP.

Members of the public were dealt with under Railway Byelaws for Public Order offences in 2018, 2019 and 2020 and we will continue to pursue offenders in this way. From 16 November 2020 we have extended our existing alcohol ban on trains, as part of additional measures under Covid-19 arrangements to support the requirement of wearing face coverings on trains and in stations and to assist in reducing ASB where alcohol may be a contributory factor.

This is being backed up with support from representatives from across the business including staff, managers, trade union colleagues and stakeholders (BTP, Transport Scotland). Skipping stops on a route would import further risks to our passengers, staff and contractors and therefore we cannot currently consider this as an option to combat ASB issues.
Find out more
Tags
Person's Environment
Health and Wellbeing
Train Operating Company