Case study: work-life balance highlighted after travel times review
Staff actively encouraged to provide feedback in relation to 14-hour door-to-door policy.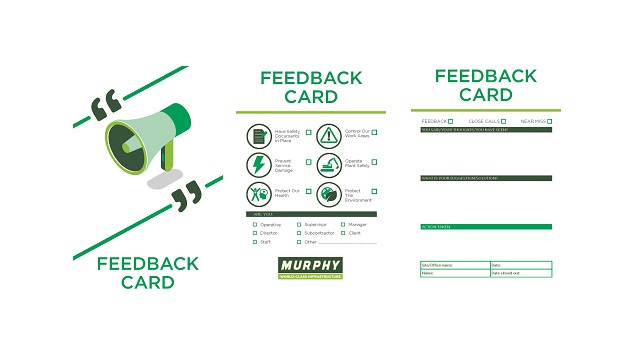 Feedback cards available on sites. ©J M & Sons
Concern
A reporter has raised a concern regarding long travel times for employees, believing this to be a company-wide issue affecting multiple sites. According to the reporter, employees are being rostered to travel up to three hours to sites. They then complete a 12-hour shift, before travelling the three-hour journey home.
On occasion employees are provided with accommodation, but this is not always the case. The reporter expresses concern this could put employees at risk of fatigue, potentially leading to road traffic incidents when travelling to and from sites. If employees are feeling fatigued, this could also lead to operational incidents or injuries during safety critical work.
Can J Murphy & Sons:
review and audit employee rosters, including travel times, to ensure that employees are working within 14 hours door-to-door policy?
provide accommodation for employees who will exceed 14 hours door-to-door?
J Murphy & Sons response
J Murphy & Sons Ltd would like to thank the individual for raising this potential concern, but we would also like to remind them of the internal reporting processes we have in place, which are fully supported by our Senior Leadership Team to address any issues. We actively encourage all staff to feed back any concerns they have using our feedback cards, which are available on all of our sites - these can be left anonymously if preferred. These cards are then reviewed and actioned appropriately.
We are committed to ensuring so far as practicable that staff working hours will be managed such that employees do not suffer injury, ill health or any other detrimental impact through working excessive hours. Employees should be able to do their jobs properly without the need to work very long hours, except in rare instances. We further believe that it is in everybody's interests that staff take their full allocation of annual leave and not accumulate significant amounts of untaken leave.
Following the issue raised, a review of current legislation, Network Rail guidelines and internal company policies and processes was undertaken and we can confirm the following: As part of our resource strategy our site teams are requested and mobilised from a pool of cross sector trained direct labour workforce, which are allocated to works by matching up their skill set versus closest to home jobs. This balance gives us UK coverage that benefits both our staff and our client and limits the amount of travel time. Wherever possible, hotels with local facilities (e.g. gym) are booked to help promote a healthy work life balance.
We also try to book our sites teams at the same hotel, and then if required, we can also provide transport for everyone in the form of a minibus. Upon arrival at sites, all staff must sign in and complete the required fields to confirm travel time, 12 hours' rest and fitness to start duty. When leaving site again, staff must sign out confirming hours worked, travel time and fitness to leave site. The use of the Sentinel app is also promoted within our sites and on training courses, and again this feature prompts for working hours and travel time.
A review of all sign in sheets is undertaken on a regular basis and no exceedances have been shown. On the rare occasion when works and or travel exceed allowed standards, we have a fully documented and risk assessed exceedance process to be followed and accepted. We would like to thank the reporter for their comments and hope that our response addresses the concerns raised. Following this report, we have investigated and reviewed the following processes:
Close Call System
Nothing reported on the Murphy internal or RSSB external platforms.
CDP Feedback Cards
Nothing reported to our Culture Development Programme Team using either paperwork feedback cards, the app or website.
SHESQ Inspections
Nothing identified during our Safety, Health, Environmental, Sustainability and Quality Inspections including reports and close out actions.
Resource
Liaison with operations directors who engaged with project directors to liaise with their site teams to review any issues of this nature being reported by internal or agency staff. Nothing has been reported into our Operations or Resource Teams.
Sentinel Safety App
Report checked and nothing identified on this.
Actions taken
It is a great reminder to engage with both office and site staff to remind them of key points with regards to fatigue and working hours.
One of the focus areas with this is ensuring everyone is aware that they need to take ownership of their rest periods and to ensure that this time between shifts is used for rest and to ensure a work-life balance is maintained.
Work on some projects is now being programmed for nine hours instead of 12 to ensure the 14 hours door-to-door policy is achieved in addition to the block booking of hotels.
Find out more
Tags
Fatigue
Health and Wellbeing