What's the difference between a close call and a near miss, and how can you raise them?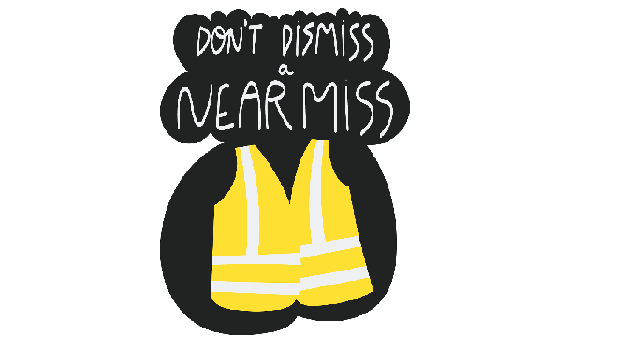 Many of us hear the terms 'near miss' and 'close call' used regularly in reports, briefings and safety alerts. Close call champions at many workplaces encourage people to raise concerns they have or see during their working day.
But what's the difference? In general, a near miss is a narrowly avoided collision or other incident, or a situation in which something almost hits something else. A close call is a narrow escape from danger or disaster, or where something bad or dangerous almost happens but you manage to avoid it.
Simply put, a near miss usually involves a moving vehicle. A close call is broader, covering any scenario with the potential to cause injury or damage.
Close call is the term Network Rail uses. Construction and other industries sometimes use 'near hit', 'hazard identification' or other terms. Transport for London (TfL) bus operators use 'near miss incident' for an event that did not result in injury, illness or damage, but could have done.
Raise a close call or near miss
Wherever you work, for your own and colleagues' safety, the company needs to find out why there was a near miss and how to prevent it in future. Even though a near miss did not result in an incident this time, if the same situation occurs again, it could lead to something more serious. You may have dealt with it, but could someone else, or in a slightly different scenario?
Many organisations have their own close call reporting procedures, often an app, phone number and email. Sometimes it's a paper form. Check with your company.
Network Rail advises reporting near misses to your supervisor or manager, as soon as possible after it has happened.
If you work on Network Rail infrastructure, here's how to raise close calls:
Download the close call app from the Network Rail app catalogue.
Phone: 01908 723500
Email: closecallreporting@networkrail.co.uk
On TfL infrastructure, you can:
report significant incidents and actual harm directly to the control centres
input an incident into the relevant incident reporting system and categorise it as a near miss
flag whether you think an incident had a high potential of serious harm on the Info Exchange reporting system.
Tags
Unsafe Practices
Infrastructure Managers