Work-related abuse: a growing crisis
What are the options if you are a victim of workplace abuse? What are companies doing to prevent it and to ensure staff safety?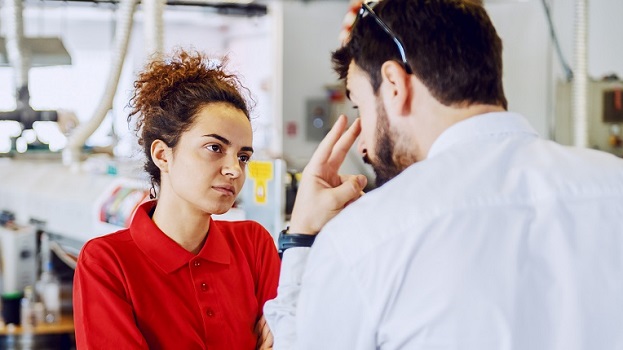 Transport workers are increasingly experiencing work-related violence (WRV). Factors include frustrations about Covid-19 safety rules. There is no excuse for abuse. Figures from the Rail, Maritime and Transport (RMT) union reveal a shocking picture. From its survey of 5,000-plus rail, bus and ferry workers, most believed that WRV has worsened. Since the pandemic started, nearly 60% have been subjected to verbal abuse or physical attack. This rises to 76% of public-facing staff surveyed from London Underground, Overground and Transport for London specifically – including drivers, cleaners and station staff.
Over half of the 60% reported being threatened with physical violence, while 1 in 10 had been physically assaulted. 88% had been verbally abused, 16% had been spat at or targeted with bodily fluids, 13% were racially harassed and 6% sexually assaulted. None of this should be happening.
Lone working was a factor, as 66% of those who had been attacked said they had been alone. Over half of all respondents said lone working has become more common during the pandemic. Rail Safety and Standards Board data shows that in the first year of the pandemic, the number of abusive incidents on the railway alone had not decreased in line with fewer passengers travelling.
Reporting incidents
Unfortunately, of those RMT survey respondents who had experienced a WRV incident, 43% hadn't reported it. Sadly, most of those said they didn't report it because they considered it part of the job or that it wouldn't be taken seriously – and for almost a quarter that was based on experience of reporting previously.
By reporting an incident of abuse to your employer, you help them to identify the issues so they can decide how to prevent and tackle it, such as allocating resources – including British Transport Police (BTP) resources – to known hotspots. Work-related violence is never 'part of the job'. It is always worth reporting.
What is trauma?
Trauma is an emotional response to a terrible event. Typical immediate responses are shock and denial. Longer term, possible symptoms include unpredictable emotions, flashbacks, headaches or nausea.
Getting help
If you have been a victim, you may experience trauma. In many cases this will improve over time, but you can seek help at any stage. It's natural to feel shaken, but if this continues for more than a month then seek help. Speak to your GP or your occupational health service. If you are suffering post-traumatic stress disorder, your GP will be best placed to help you access services.
Tackling work-related abuse
CIRAS members in all sectors are tackling work-related abuse, as it affects people working on the railway, trams, buses, metro, highways and elsewhere.
Andy Mead, head of crime and security at East Midlands Railway (EMR), shares his perspective.:
'Football's restarted, beer and music festivals have kicked off across the country… so more people are travelling, and we have seen an increase in alcohol-fuelled incidents, with Christmas around the corner too.
'We as an industry must get better at tackling this issue. People have reported incidents and management in the past have not acted – they then stop reporting.
'We need people to continue to report abuse – it doesn't matter how low-level they believe it is – but we also need to act on it.
'We are gathering the information now. We are listening. We need bigger ears and smaller mouths – we need to listen to our people, understand, and we need to take accountability of what's happening.
'Here's some of what we are doing at EMR:
Our control centre is logging every reported incident of work-related violence, with local managers investigating.
We've created an easy-to-use incident reporting form in our Close Call app.
We're part of a working group with BTP and our security partners, which includes reviewing resourcing based on intelligence we receive.
Our managers are on gate lines and trains, increasing visibility and listening to frontline staff to understand the issues. They also travel around the network to watch, plan and act for operations where there are known issues, in plain clothes or uniform alongside BTP and our security provider.
We're increasing the number of body-worn video cameras for staff.
We have focus groups to hear staff views.
We're continuing training our people to handle conflict better.
We're relaunching public-facing posters to send the message that we will not tolerate abuse of our staff.
We've created BTP staff surgeries, with more in 2022.'
If you have concerns about the risk of work-related abuse where you work, such as feeling unsafe or that there are not enough preventative measures, you can contact CIRAS.
Find out more
Case study: extra measures to improve staff personal safety
Tackling workplace abuse (including link to members' webinar)
Tags
Confidential reporting
Culture
Person's Environment