Case study: rail team concerns addressed
Electrical fire risks and lack of suitable changing facilities mentioned in report.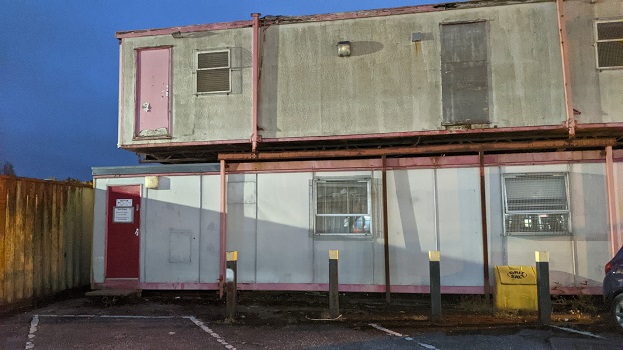 The cabin section with the roofing failure was condemned.

© Network Rail
Reporter's concern
A reporter raised these concerns relating to the technical team at North Union House, Preston.
The roof of the storeroom – two portable cabins used as a personal protective equipment (PPE) drying room and offices – had collapsed. Consequently, staff were changing PPE in the car park but needed a drying area for PPE in autumn and winter.
There were excessive cables and extension leads in the office, and the storeroom keypad was broken – anyone could push the door to enter.
There was no maintenance of equipment calibration. A lack of ownership of the calibration records was leading to equipment failing, and staff were using outdated or damaged equipment. Many of the chargers had out-of-date portable appliance testing (PAT).
As these issues could lead to a fire or electric shock, they asked Network Rail to:
remove the top portable cabin and replace the bottom one, ensuring the safety of electrical appliances, ventilation for drying PPE, and keypad security
review the equipment concerns and ensure records and PAT are up-to-date.
Network Rail's response
We have addressed each concern as follows.
An earlier inspection identified the roofing failure. The cabin section was condemned and secured, and all electrical equipment moved. Future monitoring will continue. There is a plan in place to replace the building. We have moved the changing area to another cabin with heating and will monitor its suitability. The keypad lock issue was raised earlier and fixed.
After investigating we found unused cables and multiple extension leads connected in the office. Some electrical items had out of date PAT tests. Redundant cables and extension leads have been removed and items out of PAT compliance quarantined for testing. We reviewed the equipment calibration register and removed items we no longer own or use. We mapped this to equipment: damaged items may have been used but not anything out of calibration or outdated. We have rebriefed staff on quarantining tools and that they must not use damaged equipment.
Our investigation showed there was no ownership and the handover between previous staff managing calibration was insufficient. The new calibration holder is competent. The assistant track maintenance engineer will review calibration status weekly and inspections of the technical team will check equipment.
Find out more
Tags
Person's Environment
Equipment
Infrastructure Managers