How we've helped you to get assets fixed
Three times your CIRAS reports about infrastructure asset issues have got results for you, and what happened.
Lots can fail on equipment, vehicles and infrastructure assets. If you see something that's not right, you may not know if it has been reported. Using CIRAS allows you to report issues confidentially.
Station lights fixed
The lights on two lamp posts along the access path from platform 3 of Aylesbury station to Aylesbury South Sidings were not working and had not been for five weeks. With 50-60m between the lamps, a significant amount of the path was without lighting. The reporter was especially concerned because the path, which has ballast either side, is mainly used at night, so there was an increased risk of slips, trips and falls – and further risk because it is next to railway track.
Network Rail fixed the lights within a couple of weeks and re-briefed station staff on its process for reporting faults.
Tunnel leak resolved
A leak in a London underground tunnel, for two months, seemed to be from the tunnel wall. The reporter said water might be building up behind it, and the pressure could risk the tunnel's structural integrity. They believed Transport for London (TfL) was aware but said no action appeared to have been taken or planned as staff would usually hear of it.
TfL said water ingress was a frequent issue on the Underground. Its engineering teams had been working on this leak for a while, liaising with several companies to find its source. Thames Water had carried out excavations to this end, and the area had been targeted to fix any leaks found. During the work, TfL engineering teams had monitored and inspected civils structures in the area, made repairs and improved drainage where needed, and checked that the signalling system and P-Way were in a serviceable condition. Following the report, local management is reviewing how they communicate such information to frontline colleagues.
Track circuit box secured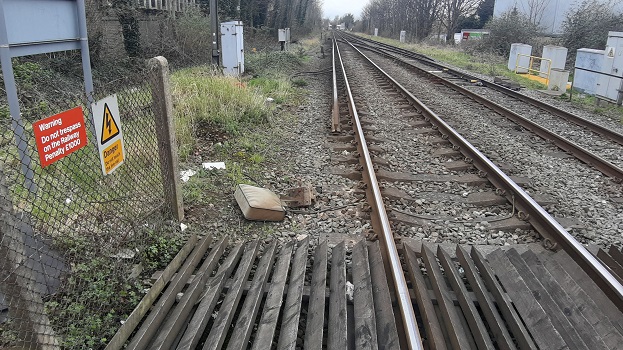 A reporter to CIRAS described a track circuit box near the Shoreham East level crossing that had been knocked down or pushed over. When a train passes a section of track where one of these boxes is located, the box indicates to signallers the position of the train. They should stand upright, and the reporter was concerned that this box was damaged or could become damaged, which would stop it from performing its vital communication function.
Network Rail investigated the fault and found a fallen TI21 trackside tuning unit secured on to a concrete pedestal buried in the ballast (above). Network Rail completed the work to re-seat this in the ballast and secure it in the ground.
Tags
Equipment
Infrastructure Issue