Rep profile: Stuart Rollo, Lothian Buses
As CIRAS rep, you can make a real difference to how well CIRAS works in your organisation.
Whether you're new to the role, your organisation is new to CIRAS, or you just want some tips on good practice – take a leaf from Stuart Rollo's book. Stuart drove a complete refresh of CIRAS at Lothian Buses this autumn. Here, he shares his experience.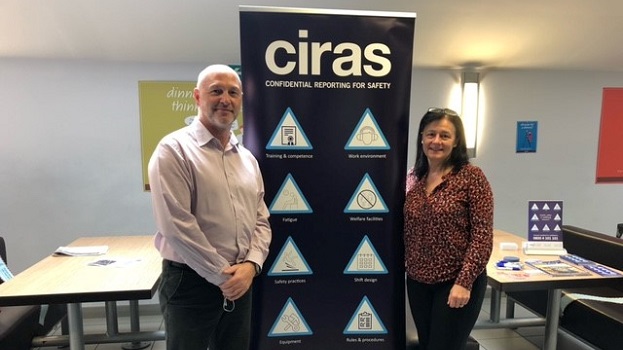 How long have you been CIRAS rep for Lothian?
I've been the CIRAS rep at Lothian since we joined in August 2018, and Lothian's health, safety and procurement manager since 2012. Before that, I was a bus driver for Lothian from 2007, but I put myself though NEBOSH training as I'd been a health and safety rep in previous roles and always been really interested in the field.
Why did you become a CIRAS member? What is in it for you?
CIRAS approached us to see if we were interested in joining. We'd never heard of CIRAS, but as soon as we found out what the service does, we could see how it would benefit Lothian.
In a nutshell, anything that helps prevent accidents and reduce risks is welcome – in fact it should be a primary focus for businesses and safety professionals alike. For Lothian, CIRAS is one of many control measures we have which, working together, help keep our staff and passengers safe. And we have the reassurance of knowing our staff always have somewhere to go if they don't feel comfortable raising something directly with us – so we get to know about it and fix it before it leads to an incident.
Why did you decide to do a refresh in 2021?
We decided to undertake a major refresh of CIRAS to reinforce our commitment to our employees' safety. It's been a testing few years for them, with both staff and services hit hard by the pandemic. We wanted to remind them that their safety and welfare matter to us, and CIRAS plays a part in that.
When we joined, we know that communications were never going to be a 'one and done' – we want to make sure new staff know about CIRAS and their other reporting options and remind our existing staff from time to time in case they forget.
What did you do?
I met with our CIRAS stakeholder manager, Sue, and our marketing team to agree a plan of action. We started by inviting CIRAS to give separate briefings to our senior leadership team, managers, and trade unions reps. Sue reminded them why we were members and explained how CIRAS could help them to keep themselves and colleagues safe.

Once they had reconfirmed their buy-in, we ran a programme of co-ordinated activity to remind staff why safety reporting matters so much, where CIRAS fits in and how to use it.

We kicked off with an article in our newsletter, and a refresh of all the materials in our depots, including posters and new stickers. Then, we created a joint video with CIRAS, which we played across all our depot TV screens, reminding our staff why they should speak up and inviting them to meet CIRAS at a forthcoming series of depot visits.

Sue toured all our depots , setting up a stand with informational materials in each of our depot canteens for a few hours, chatting with staff and answering their questions. She left a pack of materials and merchandise at each depot, including information cards for all staff, which our depot managers distributed.

And we're not quite finished! Sue will spend a day touring our engineering garages in February (pictured below) to give a brief toolbox talk to each of our engineering teams.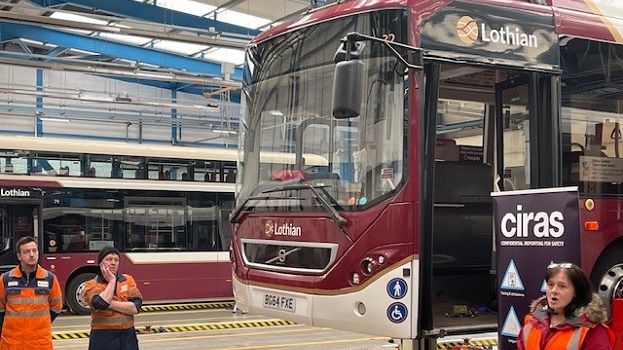 What kind of feedback did you get?
It's been very positive. There are a lot of new people in our senior leadership team, and they have expressed their support for what CIRAS is helping us to do. At the canteen session, trade unions reps spent time with Sue, talking about ways in which CIRAS could help them support their members, which was really encouraging. Staff also showed a lot of interest at the canteen sessions.
What advice would you give CIRAS members thinking of doing something similar?
Have a plan – and get your communications team on board to participate in planning from the outset. They can really help by advising on the best ways to get messages across and providing access to their internal channels.
Start with your senior people. If you're a new CIRAS member, for example, people may be a bit suspicious – that's natural with anything new. Get your top team on board, so spend time explaining to them how CIRAS will help the business. That's important, as it'll set the tone for the communications that come next.
Take time to explain the role of CIRAS to your trade union reps. They can be highly influential with frontline staff, so make sure they really understand how CIRAS works alongside what they do, reducing the risk that they will resist it, and enabling them to answer questions from their colleagues. In particular, make sure you're absolutely clear about what CIRAS is and what it isn't – for example, CIRAS won't take personnel issues such as grievances.
Communications and transparency are key. Make sure the message is consistent and roll it out across all parts of your business. Don't leave anybody out.
What might you have done differently if you were doing it again?
In our next round of communications we will probably do more to promote all reporting channels together, with CIRAS as one of those choices. We've done some of that already with our joint video, but we'll look at whether we can do more joint materials in partnership with CIRAS, such as posters. The important message this sends to staff is that we want them to speak up – using whatever route works best for them.
Find out more
More profiles
Rep profile: Akanni Johnson, Govia Thameslink Railway
Rep profile: Kevin O'Reilly, Irish Rail
Rep profile: Araiz (Ally) Arrue Iturrate, VolkerRail
Rep profile: Paul Monck, Drainline Southern
Rep profile: Kevin Ogilvie-White, Great Western Railway
Rep profile: Carole Mason, KeolisAmey Metrolink
Rep profile: Nathaniel Chambers, Tram Operations
Rep profile: Jo Parker, Transport for London
Rep profile: David Bean, Atkins
Rep profile: Liam Linford-Smith, Civil Rail Services
Rep profile: Simon Groves, Transport for Wales Rail Services
In profile: award-winner Samantha Winfield, Great Western Railway
In profile: Alex Wilson, Vital Human Resources
Tags
Confidential reporting
Bus