Case study: working at height rules clarified
Confusion over safety rules and procedures for investigating railway semaphore signals is resolved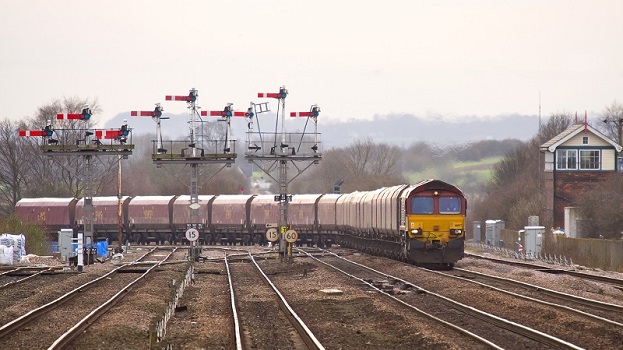 © Semaphore signals pictured in Barnetby. © Kev Gregory/Shutterstock
Concern
Someone contacted us for clarification of Network Rail's rules and procedures for working at height. They believed that there was some uncertainty when carrying out inspections on semaphore signals – specifically, when taking photos of the signal and investigating its condition. Due to the short length of time spent at height for this work, they were not clear if this is considered working at height.
The person raising the concern has also been told that a harness must be worn when working at height but that it does not need to be attached to the structure if it is shorter than three metres. They would therefore like Network Rail to clarify the procedures for semaphore signals when working at height.
Network Rail's response
Working at height is when a person could fall a distance which could cause personal injury. There is no stated height in legislation. The length of time a person works at height is also not a factor. If you are at height for two minutes or 20 minutes, it is still working at height. For any activity at height, a risk assessment should be carried out for reactive and planned work. We have Task Risk Control sheets for common activities – which should be referred to when planning work activities – as well as appropriate standards for guidance on activities that are required to take place.
Wearing harnesses is covered in Task Risk Control NR/L3/MTC/RCS0216/GH04 Working at Height, which states that a harness must be worn. The harness must be visually inspected and confirmed to have no defects, and must have a tag certifying that it has been inspected by a competent person and is in date.
For signals, there is Task Risk Control NR/L3/MTC/RCS0216/SIG01 [issue: 3] Working on Signals (Semaphore & Coloured Light). This includes working on signal posts and gantries. The procedures for semaphore signals when working at height require a Safe Work Pack to be produced by a planner with an accompanying risk assessment, which would need to refer to the Task Risk Control sheets mentioned and the Work Instruction on working at height: Planning and Delivering Safe Working at Height NR/L3/MTC/SE0220 Issue 1.
Tags
Rules and Procedure
Infrastructure Managers