What can you report to us?
Wondering what you can report using CIRAS confidential reporting? Here's when to contact us: we take forward more types of concern than you may have realised.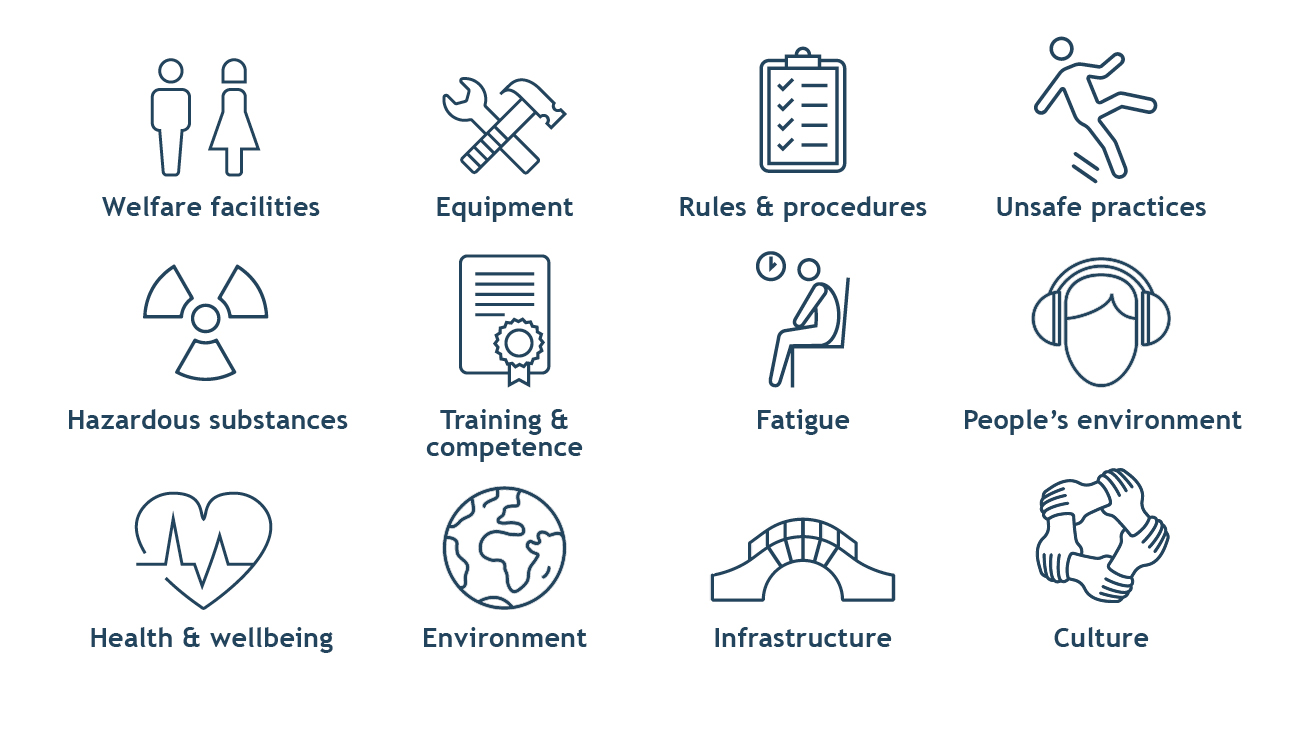 If you are wondering 'What can I report with confidential reporting? What concerns can I raise?' then look no further. We take any genuine health, safety or wellbeing concerns.
We take
In the image above, you can see the sort of concerns we take forward at CIRAS. Here are some other types of concern we take that you might not have realised:
Asset issues
Lots can fail on equipment, vehicles and infrastructure assets. If you see something that's not right, you may not know if it has been reported. CIRAS allows you to do so confidentially.
Cyber security
If technology is hacked it can seriously impact safety, whether it's a business' IT system or operational technology. If you notice a system, equipment or rolling stock behaving unusually, you can flag this as a concern using CIRAS and this could prevent or reduce harm.
Environment
We take environmental concerns that can affect health and safety, such as about toxic spills or storage of hazardous materials, waste management (fly tipping or bins not being emptied), air or water quality, asbestos, gases or diesel or welding fumes.
Wellbeing
Work can impact your sense of wellbeing, and if negative, this can affect you as well as the quality or safety of your work. You may also be concerned about working culture, hours, workload and the systems to support you in challenging times.
Change
Any change can increase risk. For example, changes to the structure of a team, or how it communicates with other business areas. Or new equipment, rolling stock or new procedures. And new technology (think drones and e-scooters) might affect public safety.
We don't take
Real-time concerns
If an issue poses an immediate or imminent risk of an incident, use your company's appropriate channels for the fastest response. If you are on the railway you could use Network Rail's emergency 24-hour helpline, 03457 11 41 41.
Personal grievances
We don't take forward concerns implicating an individual, for confidentiality reasons.
Individual drugs and alcohol concerns
As these are real-time concerns, they should be reported using appropriate channels. They are often about specific people, so we also couldn't maintain confidentiality. However, we can take more general concerns, such as how a drug or alcohol policy is applied (see chart below).
Individual wrongdoing
Concerned that someone specific is acting illegally or not following company procedures? We cannot take this forward, but we will redirect you to somewhere that can help.
Behaviour and culture concerns
Our chart below shows how CIRAS confidential reporting or internal reporting channels can be used to get the results you want when you are reporting safety concerns about wellbeing, bullying, discrimination, workplace abuse, drugs and alcohol or related issues – and when you can use CIRAS or company channels.

Find out more
How our confidential reporting process works