Case study: trial aims to resolve possession communication issue
Concern that lack of consistency could cause misunderstandings between signallers and PICOPs and could even lead to a fatality.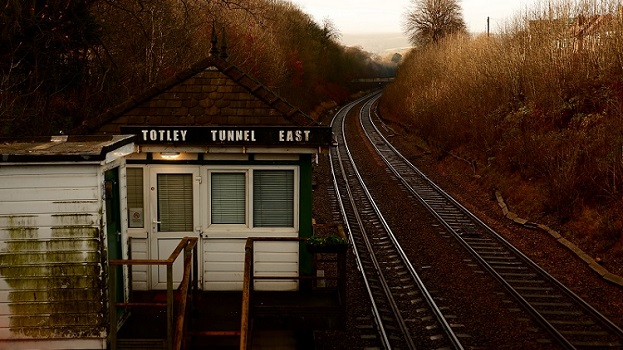 Totley Tunnel East signal box
Concern
A reporter raised a concern about how the Person in Charge of Possession (PICOP) communicates with signallers in signal boxes. According to the reporter, T3 possessions are not being carried out as per the Rule Book (module T3, sections 2.1 and 2.3), as PICOPs are using an older method of work that required them to contact all signal boxes along the line about where the blocking points are.
The reporter said this method of work contradicts the Rule Book, which states that PICOPs will contact the signaller who controls the signal leading to the section of line that is to be taken under possession. Once this contact has been made, it is this signaller's responsibility to contact the other signal boxes and establish which other signals need to be put at danger along the line thus granting the possession. Therefore, the PICOP does not need to contact all signallers.
The reporter expressed concern that PICOPs are arranging T3 possessions both the historic way and as per the Rule Book, which could cause misunderstandings between signallers and the PICOPs and potentially result in a fatality. For this reason, the reporter asked Network Rail to ensure that all PICOPs are following the Rule Book when arranging a T3 possession.
Network Rail's response
Similar to the reporter's concerns, the Rail Accident Investigation Branch (RAIB) published a report into a trackworker near miss at Camden Junction South in London on February 2017.
The report, which is on the RAIB website, included a recommendation: 'Review the content, timing and structure of verbal communications between the PICOP and signallers at different workstations, taking into account the need for all parties to be fully aware of the relevant information at the appropriate time (including, for example whether a PICOP needs to contact all signallers affected by the possession, and what level of detail should be included in the various conversations between signaller and PICOP).'
To address this, Network Rail is proposing a trial to the relevant stakeholders (custodians of the Rule Book) of an alternative wording to define who takes the lead responsibility when arranging a possession. North West & Central (NW&C) region has volunteered to be part of the trial, planned for February 2021 Chinley to Totley then extending every two weeks.
In the interim, NW&C signalling staff will be sent a reminder of the current instructions within Rule Book module T3, through an operational alert process. The actions in this report have been shared with the NW&C planning team to share with internal functions and third-party suppliers of PICOPs.
Tags
Communication Issue
Rules and Procedure
Infrastructure Managers