Case study: tram depot concerns resolved
Roles and competencies were clarified and a fire exit cleared following the report about safety at a tram depot.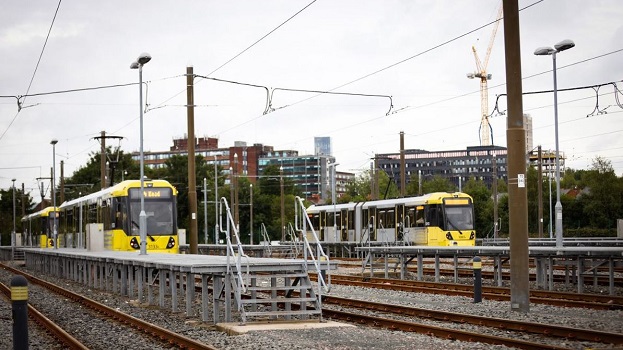 Reporter's concern
Public safety could be at risk from the Control team culture of getting services running as soon as possible after an incident. This could worsen an incident that's being responded to, or lead to another incident once the service is running again.
The reporter said network incident officers (NIOs) were carrying out checks, changes and resets on trams that they do not have the knowledge or authority to carry out safely or correctly, and that this had led to the status of safety-critical systems on trams changing without drivers knowing.
Control staff carry out safety overrides of trams without consulting the vehicle team.
They added that shelves preventing easy access to a storeroom fire exit put staff safety at risk.
They asked KeolisAmey Metrolink to investigate why Control team staff feel pressured to take action outside their roles, and to brief staff on the importance of not doing this. They also asked for access to the storeroom fire exit to be cleared.
KeolisAmey Metrolink's response
NIO is a relatively new role. All NIOs have driving/supervisor backgrounds. Some have a testing and commissioning background and have experience in testing rolling stock and signalling systems.
Our investigation identified a past incident with a vehicle fault, when a miscommunication between NIOs and the vehicle team caused confusion. Since the incident, we instructed NIOs not to touch on-board equipment. We will brief a reminder of this.
A competency and training package is being developed for NIOs, to be assessed to internal quality assurance standards.
The Network Management Centre has started a Defective In Service Instructions (DISI) document to give a consistent and assured response to failures on rolling stock and signalling equipment.
This uses subject expertise to fully assess each fault so the right actions can be documented, taking into account the risk of each action. We will brief this to employees.
We have shared a lessons learned bulletin with employees about the cultural issue raised.
We will improve the safety reporting system Stop, Think, Act, Report (STAR) to include feedback, along with timescales for actions to be completed. We expect this to be completed end of 2022.
We have visited Trafford depot twice to investigate the fire exit issue raised. This identified the machine tool workshop as the area of concern, as well as improvement actions.
A cabinet storing COSHH items next to the fire exit blocked the escape route. We have moved this now. We have cleared crates and other materials from the fire door access, and have aligned the racking so that there is at least the minimum gap of 1.2m required. There are now floor signs to show the fire escape route.
View the full report at ciras.org.uk/resources-and-learning/reports/report/03530.
Find out more