Level with us: level crossing safety
On International Level Crossing Awareness Day, we consider different level crossing safety concerns raised with us – and what happened next.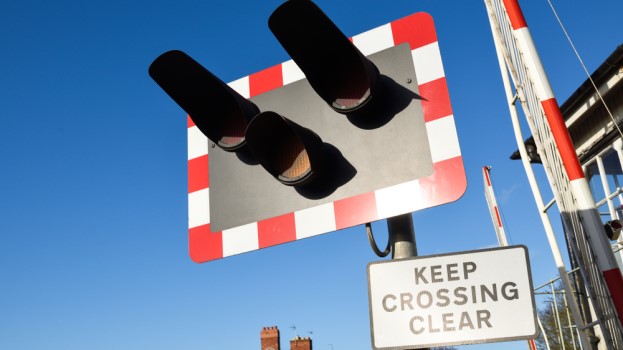 As one of the main interfaces between the operational railway and the public space, level crossings are an area of risk for staff, other railway users and the wider public.
These risks – and sometimes a lack of public understanding – are the incentive behind International Level Crossing Awareness Day, or ILCAD, which is on 9 June this year. ILCAD seeks to improve awareness of level crossing safety.
If you work on the frontline of the railway, in operations, maintenance or customer service, you will often be one of the first people to notice safety issues – or situations that could become unsafe. This includes level crossings, which pedestrians and drivers sometimes misuse risking their own lives and others'.

You might notice rising or high levels of misuse and feel compelled to speak up if you have suggestions or just want to make the right people aware. If you prefer to raise your concerns in confidence – with your identity protected – CIRAS offers an alternative to other reporting channels.

We will listen to your health, safety and wellbeing concerns – whatever they are about and wherever you work on the railway – and pass them to the relevant company so they can act. Your concern can either be directed to your own employer or to another company.

We follow up to get a response so we can share this with you. You will then have the chance to ask more questions through us if you would like – always without the company knowing your identity.
Crossing concerns
People have raised different concerns with us about level crossings. As with all railway assets, crossings can face wear and tear over time or stop working properly, leading to safety issues. It is always worth bringing attention to these, whether through reporting channels that can provide an immediate response, or by using CIRAS if an issue does not pose an immediate risk.

Just a few of the types of concerns raised with us include lights at a level crossing dazzling train drivers, staff not being able to see the crossing clearly to identify unsafe behaviour, and queries about the suitability of a level crossing for its location.

In one example, a reporter to CIRAS highlighted a stop button for level crossing barriers that was not always responding immediately, and which was at times failing to prevent the barriers from being lowered. They were concerned that the button could fail and someone become trapped. The response shared that a secondary safety system was in place to protect passengers and the public – with the signaller having to confirm that a crossing is clear before allowing a train through. The response then explained the investigation and actions that followed, including replacing the controlling relay as a precaution as this was operating intermittently, and confirmation that the telecom system at the crossing was planned in for renewal.

Another time, a reporter raised that the image quality on CCTV cameras overlooking a level crossing was only acceptable on a dry, cloudy day but not in other conditions such as at night, in rain or sun. This made it difficult for staff to confirm if the crossing was clear and safe for trains. After the CIRAS report, the CCTV cameras were adjusted to provide better visibility.

Elsewhere, a concern resulted in labels being replaced at gated small user-worked crossings. The reporter had been concerned that 'line closed' times on the labels could mislead the public, who might have assumed that it wasn't necessary to use the crossing telephone and crossed without permission. The new labels removed this worry.

Whether you have a health and safety concern about a level crossing, another railway asset or something else, we are here to listen.
Tags
Equipment
Rules and Procedure
Unsafe Practices
Infrastructure Issue
Infrastructure Managers