CIRAS reports cited in new research on rail welfare facilities
Latest RSSB research and guidance on toilet facilities for railway staff highlights the importance of reporting concerns.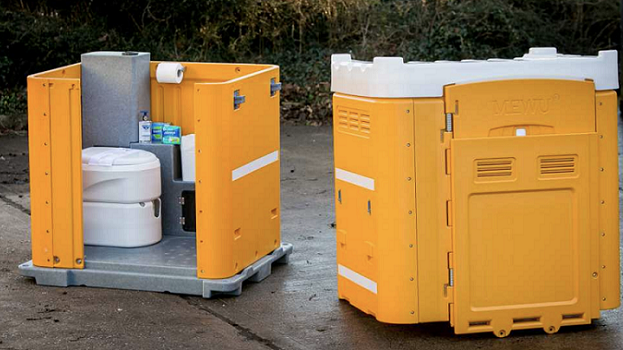 Above: A cross-industry collaboration developed the Mobile Expandable Welfare Unit (MEWU), a modular wellbeing unit that can be deployed anywhere on site including on track. Read more
The Rail Safety and Standards Board (RSSB) released the research report in April 2022 alongside its own guidance on toilet facilities provision for workers on the railway (page available to RSSB members only and you may need to log in).
This research sets out a structured approach to providing the right welfare facilities for rail workers. It covers workplace regulations for safety, health and equality. Above all else, it aims to meet the human need and dignity requirements of the workforce as a whole.
Employers' legal obligation is to ensure that their workforce has access to adequate 'welfare facilities'. Legislation, including the Equality Act 2010, has been developed in line with a progressive workplace reflecting changes in diversity and equality in the UK.
As well as the importance of caring for employees' basic human needs, there are health and safety risks from a lack of access to appropriate toilet facilities, such as leaving locomotives for emergency relief, isolation and security issues, and working without optimal hydration to avoid the need to use toilet facilities – which could result in fatigue, anxiety and distraction.
The RSSB report refers to concerns raised with CIRAS about welfare facilities, and states that adverse event reports from CIRAS and others were reviewed in the course of the research.
Importantly, RSSB found that only half of those interviewed for its research would formally report matters such as the lack of toilet facilities. Its report stated, 'Some of this was due to embarrassment, or for personal reasons.
'It is important that employees do report concerns, directly or indirectly, to allow improvements to be made. Employees should be encouraged to report concerns openly though their line management or internal processes, through safety representatives, or through reporting systems such as Close Call or CIRAS.'
Toilet stickers
CIRAS members can get free stickers to go on welfare facilities promoting our confidential reporting service to frontline staff – use our merchandise order form.
Find out more
Track Safety Alliance: improving track worker welfare with the MEWU
Tags
Health and Wellbeing
Person's Environment