Rep Profile: Araiz (Ally) Arrue Iturrate, VolkerRail
We asked VolkerRail's CIRAS representative, Araiz (Ally) Arrue Iturrate, to share her thoughts on how CIRAS membership is having a positive impact at VolkerRail, and how she uses it to seek new ways to share learning and good practice to engage with others in the transport sector.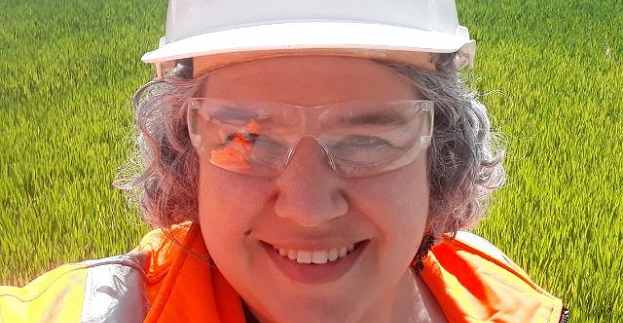 VolkerRail is one of the UK's leading multidisciplinary railway infrastructure contractors, with experience in both the heavy and light rail infrastructure sectors. Its Specialist Businesses division has expertise in signalling, track, power, electrification, and piling, which work independently as subcontractors to the wider rail sector, or collectively as a Tier One contractor for larger frameworks. It also has an in-house plant division, and bespoke design teams.
VolkerRail's Major Projects division undertakes large, multidisciplinary joint venture and alliance projects, building strong relationships with other contractors. Together, we have delivered – and are delivering – some of Britain's biggest rail projects over the last decade.
I am proud to have been part of VolkerRail's health, safety, quality, environmental and sustainability (HSQES) department for almost nine years, under the leadership of our HSQES director, Stuart Webster-Spriggs, and I have been VolkerRail's CIRAS representative for two years.
How does CIRAS help your organisation?
Although VolkerRail has an open culture, CIRAS provides employees with a confidential line of communication if they wish to report concerns.
As VolkerRail's CIRAS representative, I can take advantage of the wide range of resources available, including access to shared learning. For example, we are working with CIRAS to identify members who have experienced catchpit1 incidents, to discuss trends we have found in our business, allowing us to work with the wider CIRAS community to share information and develop solutions. Watch this space!
I also have a quarterly meeting with my CIRAS stakeholder manager, Katie. I share information about issues affecting our worksites, and Katie flags if similar concerns are being raised elsewhere within the CIRAS community.
What are the challenges of being the CIRAS rep?
As a business, we have to share a lot of safety-critical information with employees and need to make sure that they are listening and understand what we share with them. So a big challenge for me is getting the messages out to the workforce, reminding people that CIRAS is an option for reporting, and we are happy for them to use it.
CIRAS has been around for a long time now and it is important it doesn't just become 'wallpaper'. We need to keep the message fresh. At VolkerRail, we have incorporated CIRAS into our Worksafe Procedure, which is regularly briefed to employees during their site induction process, so they are getting an update on CIRAS at the same time.
We're also planning to further integrate CIRAS into our day-to-day work by hosting a site visit from CIRAS to talk to our workforce about speaking up.
What advice would you give others on being an effective CIRAS rep?
To be open, honest, and approachable, as well as tenacious when communicating about CIRAS. There is a willingness to work collaboratively, both at CIRAS and VolkerRail, and Katie and I work hard to strengthen that relationship.
I understand the need to keep reminding everyone in VolkerRail of the need to speak up to further improve our health and safety culture, and I don't give up on getting the message across. This is best achieved by maintaining high levels of engagement and by reminding everyone that reporting to CIRAS is not only acceptable but encouraged, so that we keep getting everyone back home safely.
What do you think are the challenges facing you and CIRAS in the future?
The main challenge, both for CIRAS and for all aspects of health and safety, is to remain at the forefront of the workforce's mind. We need to ensure that frontline employees not only understand why health and safety matters but are also interested and willing to act on the health and safety information they receive. We need to create and maintain momentum, and we'll do this through strong engagement, and by keeping the message simple.
1 A catch pit is an empty chamber built into a drainage system to 'catch' silt and other debris carried along the drainage pipe by water.