Rep profile: Kevin O'Reilly, Irish Rail
Last year, CIRAS welcomed Irish Rail as its first international member, including Rosslare Europort. We caught up with rep Kevin O'Reilly about the differences and similarities between health and safety at ports and on the railway, and why Irish Rail joined CIRAS.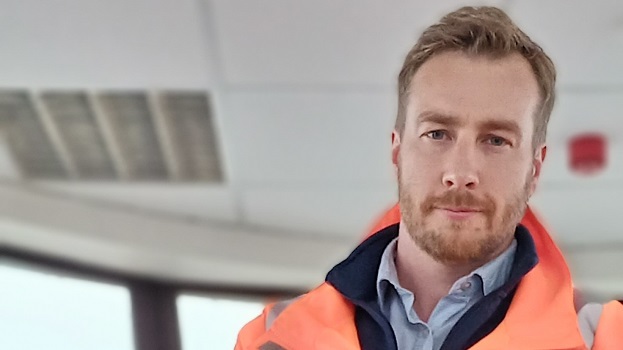 Above: Kevin O'Reilly
What do you do?
I work for the director of Health and Safety in Irish Rail, as the senior safety administrator. I've worked in safety for the past 15 years or so at home and abroad, and have been with Irish Rail for the past two. I am part of a shared services team and I'm responsible for managing safety at the Rosslare Europort, with some additional functions across the rail network. For example, at the moment I'm also working with the team on the rollout of safety leadership training at all levels.
Tell us more about Rosslare Europort
Rosslare Europort is primarily a Ro-Ro port (roll on – roll off). This means we are loading and unloading freight containers on and off vessels. We deal with a large volume of freight traffic, with services that go from Rosslare to the UK and to Europe. Our main destinations are Wales, France and Spain and we have recently added a new route to Belgium. Most of the traffic at the port is freight, but we're also seeing an increase in passenger numbers again as Covid-19 restrictions have lifted.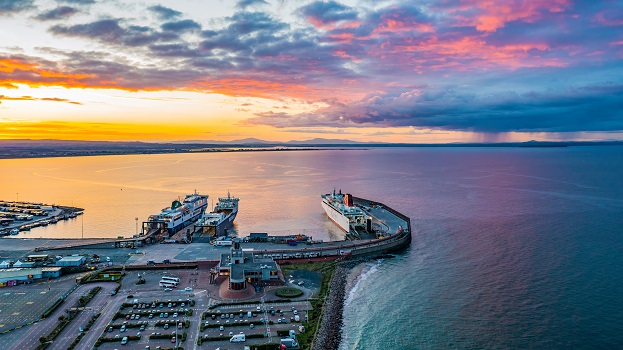 How does health and safety at the port and across the rail network differ?
The main day-to-day injury concerns are the same as you'd see in most workplaces such as slips, trips and falls. At the port, another area where we have historically seen injuries is manual handling, particularly handling of heavy ropes during the mooring process for the vessels. This has been mitigated in recent years by putting better controls in place.
The port is also much more weather dependent than the rail. Timetables can be thrown off quickly when things change – which can make it difficult to shuffle staffing requirements for peak times. This can lead to pressure and fatigue issues, particularly where Covid-19 has also been a factor in absenteeism. With rail, recent heatwaves have shown 'front and centre' how the line can be affected by weather.
The real worry, where major risk may occur in the port, is the segregation of people and vehicles. There are a lot of vehicle movements and the HGVs, reach-stackers, and tug-masters used to load and unload containers are large, bulky vehicles. They are not particularly fast moving but do have limited braking power and visibility and are in and out of the restricted spaces on ships and the yards around the port. Irish Rail have limited jurisdiction on board the vessels, so we need to make sure there is a good third-party interface and the vessel crew agrees to follow safe practices around vehicle movements.
Key to controlling this is having and encouraging a good reporting culture. Every one of our drivers and coordinators is a set of eyes on the ground. Each monitors and reports any unsafe actions on deck – this lets us intervene before a serious incident occurs. Good reporting culture is essential to incident prevention and that's where CIRAS also fits in.
On the rail network, the interaction between people and vehicles is also a high-risk area – if something goes wrong with an RRV (road rail vehicle) it can cause a similar serious incident.
There is a strong focus on asset management across the rail network – ensuring everything is well maintained and fit for purpose. The port is a self-contained site, so has a different asset management regime with equipment and needs specific to port operations and the marine environment.
Why CIRAS?
Irish Rail is relatively new to CIRAS. We previously had a few incidents and the investigations showed that there were concerns about staff speaking up. We have a good internal reporting culture across Irish Rail, but there was a particular issue with contractors speaking up about Irish Rail. We wanted to look at an independent and confidential service to try and bridge that gap. CIRAS is the leader in this area.
How are you embedding CIRAS across Irish Rail?
We started from the top, getting the Board and Senior Management team onboard – explaining to them what it was about and how we would roll it out across the business. We then talked to the management teams in the Infrastructure Management and Railway Undertaking sides of the business and got their leadership teams on board. We felt it was important to get the buy-in of the senior teams when rolling out.
We used multiple channels to get the message out to staff: an introductory article, briefings to staff, posters and videos. CIRAS also came over to attend a supplier day and our infrastructure management showcase day, which allowed more face-to-face discussions about CIRAS and how it works. Following the initial rollout we are continuing to push the message out by promoting through our monthly internal newsletters, social media, and attending internal events.
Find out more
More profiles
Rep profile: Akanni Johnson, Govia Thameslink Railway
Rep profile: Araiz (Ally) Arrue Iturrate, VolkerRail
Rep profile: Stuart Rollo, Lothian Buses
Rep profile: Paul Monck, Drainline Southern
Rep profile: Kevin Ogilvie-White, Great Western Railway
Rep profile: Carole Mason, KeolisAmey Metrolink
Rep profile: Nathaniel Chambers, Tram Operations
Rep profile: Jo Parker, Transport for London
Rep profile: David Bean, Atkins
Rep profile: Liam Linford-Smith, Civil Rail Services
Rep profile: Simon Groves, Transport for Wales Rail Services
In profile: Alex Wilson, Vital Human Resources
In profile: award-winner Samantha Winfield, Great Western Railway
Tags
Infrastructure Managers
Ports