Throughout the pandemic, many workers across the transport and infrastructure sector continued to work, and many who were furloughed have been returning. Making sure workplaces are as Covid secure as possible is a hot topic for CIRAS members, big and small. With around 40,000 employees and 1,400 locations across its estate, Network Rail arguably faced one of the biggest challenges of all. We spoke to Jo Lewington, Head of Workplace at Network Rail (NR), about how they managed this across their business.

NR's first act, in April 2020, was to set up a Workplace Assurance Taskforce, made up of a range of people including the chief medical officer, occupational health and safety specialists, the strategic crisis management team and the industrial relations team.
The Taskforce developed a Workplace Recovery Plan, setting out some key principles, using the Department for Business Energy & Industrial Strategy (BEIS) notice as a starting point.   

The first step was to carry out a RAG assessment of NR's whole estate – 1,400 locations – ranging from single person signal boxes to NR's headquarters in Milton Keynes. Many of these locations are operational and have remained in full use throughout.

Next, all mechanical and engineering assets at each site were checked– such as water systems and air conditioning- to ensure they were safe. NR's facilities management contract with Mitie was maintained throughout the pandemic – even where staff weren't using the site – to ensure that statutory compliance of the estate was maintained.

The cleaning regime at each site was examined to see if any adjustments were necessary. NR introduced a microbial cleaning agent which kills the virus on contact and lasts for 30 days. This was applied to all touch points including handrails, tea points, lift call buttons, chair arms and desks. The space in each building was set up to enable social distancing, for example: 
putting one-way systems in place and introducing 'no stop' zones e.g. by the bins

 

planning what desks could be safely used 

 

removing infection hazards such as some cupboard doors in kitchens 

 

putting posters in meeting rooms stating the maximum capacity and removing excess chairs

 

measures to monitor staff temperature, including thermal cameras in around 100 sites, and hand-held infrared guns and traditional thermometers elsewhere.



A 'Covid champion' was nominated for each site to ensure that preparations were planned and completed. The Covid champions worked alongside a local trade union rep, conducting walkarounds with the local facilities management team to determine if it could be signed off as 'Covid-secure' (using the BEIS notice created for that purpose).

All NR sites were signed off by July, and NR conducted an audit of 40 high risk sites to ensure all measures were properly in place. NR followed up this plan of work with a round of engagement sessions across the business, sharing what they had done so staff could feel safe and secure about working in their environment.

Preparing people
At the start the Taskforce identified which roles needed to be done in a workplace (such as signallers and Regional Operations Centre staff) and which could be fulfilled from home. The next step was to ensure people were fit and well enough to be at work – both mentally and physically. The Taskforce introduced local functional co-ordinators to help manage the process on each NR site. It then identified three steps for returning to the workplace safely:
Mind the gap
One exciting innovation was the introduction of the 'Mind the Gap' app, which NR staff could choose to download. Using audio and Bluetooth signals, the app can detect if users are in close proximity to each other – with users setting the desired distance. It's a good way to remind people to be aware of their proximity to others. The app doesn't share data and doesn't allow the tracing of people's movements.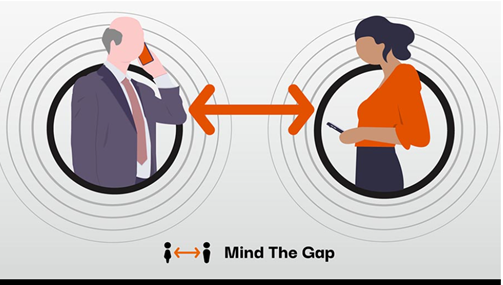 Implications for future working
The whole process has also made NR look in more detail at agile working, recognising that future ways of working will have more choice and flexibility. While some NR workplaces have not seen any reduction of staff on site, corporate offices have reduced capacity to maintain social distancing. If staff need to come into the office they can, but they are not pressured to do so – they only need to attend a workplace if they can't do their work from home or are struggling working from home.

There's no doubt that the pandemic has changed the way people work at NR - and across all of society - for good.

If you'd like to find out more about NR's Workplace Recovery Plan, contact Jo at jo.lewington@networkrail.co.uk.